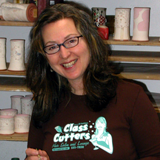 Kathryn Finnerty is a studio potter living and working in Oregon, who's pottery is ornately decorated with surface patterns and images that draw on her dual love of the historical traditions of European decorative ceramics and the landscape.  Each piece is hand-built from slabs of terracotta clay and formed into a variety of domestic forms such as jars, teapots, and vessels for flowers.
Born and raised in Toronto, Kathryn studied Ceramics at George Brown Community College in Toronto and Sheridan College in Oakville before she earned her BFA ('89) from the Nova Scotia College of Art & Design and her MFA ('93) from Louisiana State University. After several years of teaching in Canada and the United States Kathryn moved to Oregon in 2000 with her husband Tom Rohr, also a potter, to build Pleasant Hill Pottery and focus on the practice of making pots. 
Currently Kathryn's work is collected and exhibited across Canada, the United States and the United Kingdom.  In addition her works have been published in a number of books and magazines.
Artist Statement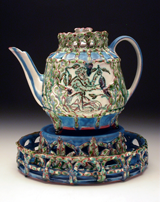 "I have always been drawn to 19th century English pottery and use it as an inspiration for my work.  I specifically enjoy the playful, ornamental aspects of Victorian Majolica and the decorative sprigged surfaces of salt-fired stoneware and porcelain wares.  I find the classically inspired designs partnered with shapes derived from natural forms charming and unpretentious.  Other important influences come from my love of pastoral landscapes and the sense of attachment and belonging that it can inspire in me.  In my practice I attempt to understand and interpret these influences in an effort to create a body of work relevant to our contemporary times, while fulfilling my personal creative impulses. The work is primarily hand built from slabs and then thrown on the potter's wheel to create a sense of volume and containment.  The surface patterns are created when I incise hand-made plaster tablets with images and designs when transferred to the clay surface produce a raised-line relief.  In addition to this integrated decorative treatment I sprig and scraffito images onto the clay surface.  Vessels for flower arranging, tea sets, condiment services and jars are a few examples of the domestic forms that I explore."