Coming Workshops

Elaine Brewer-White • Ceramic Sculpture
March 13 - March 15, 2015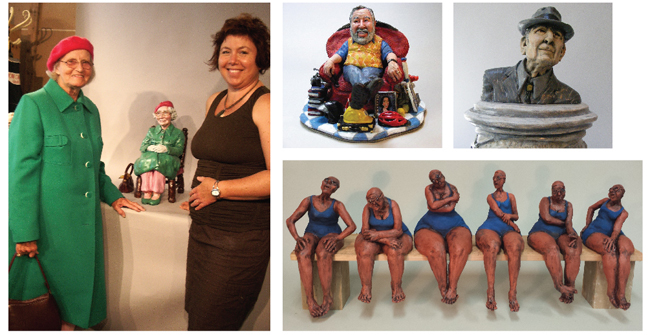 With this three-day course we will be exploring gesture and the figure. Elaine will share her techniques of building hollow forms which are then altered and added on to. She will discuss proportion, movement, and texture - and how to access new ideas through creative thinking. She will also demonstrate how she approaches color and how color choices aect a sculpture. Warning: Elaine is prone to 'over-sharing' - and laughter may be an unavoidable byproduct of this class.
Elaine Brewer-White is a ceramic sculptor who had been practising this art form for more than 30 years. Her work is in collections both private and corporate world wide. Her body of work ranges from ceramic installations, wall murals to 3D family portraits. Working with clay is a life long passion for Elaine, as are the constant themes of color, movement and life.
The workshop fees is $200 and includes:
• Slide presentation: March 13, 2015 at 7pm in the Jack Bryant Room
• Hands on workshop - 9:30am - 3:30pm - Friday, Saturday & Sunday
• 1 box of clay for sculpting
Max 15 participants - open to all members and skill levels!

To sign up or for more information, please contact Karen Heathman at
indigopottery@gmail.com or by phone: 250-612-8592
or Darcy Kinder at wallflowerpottery@gmail.com
Download the pdf here.
Clayfest 2015 Registration Open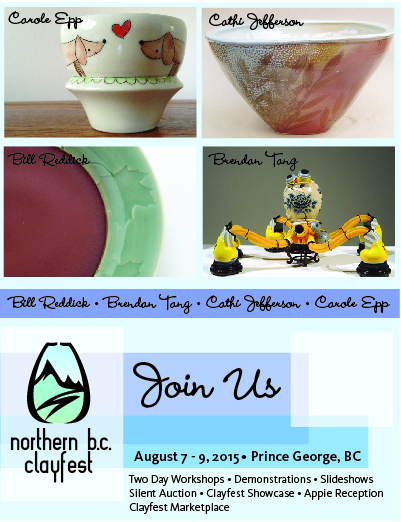 Our Mission

To promote communication and co-operation among those interested in the ceramic arts.

To foster artistic and educational activities within the Guild and the community.

To promote members' work through sales, exhibitions and demonstration.